Did you start 2022 with any goals, resolutions, or ambitions?
If you are like me, the answer is yes. Maybe you wanted to strive towards better health - increase your water consumption, fix your outlandish sleep schedule, make fitness more of a priority, or prepare more nutritional meals.
Maybe you wanted to focus on spending more quality time with family and less time on social media. Perhaps you hoped to spend less money and focus instead on blessing someone else once a week. Or maybe your goal was to devote time to learning a new hobby or language.
It's the second month of 2022. February. How many of those goals lasted? If you are like me, not many.
As I scrolled through Instagram the other day, I saw a post that read, "Any year you grow spiritually, will be a better year than the previous year."
The more I thought about it, the more I realized how true this statement is! I thought back to the years I had grown the most in my faith, where God pushed me outside of my comfort zone and I learned to rely on Him even more. Maybe those years weren't the best in other aspects, but I look back fondly on them because of how much my faith grew.
Losing 15 pounds or saving money is a good thing, but spiritual growth is even more valuable! How are you choosing to grow spiritually this year?
Want some encouragement and tips that can be applied both to your relationship with God and other goals? Here are a few things I have been learning:
1. "Consistency over intensity."
I heard someone say this once when talking about their fitness journey. They explained how creating a habit of exercising regularly and being consistent is more vital than infrequent, strenuous exercising. The latter is how you get burned out.
This is a principle I have applied not only to my fitness, but also my spiritual walk. I realize how beneficial it is for me to start my day with time in God's presence. Praying to him and reading his Word, even if it is just 15 minutes before I head out the door, determines how my day will go. If you spend a couple of hours in a church service on Sunday while neglecting God the rest of the week, you're missing out. Making time for God every day will equip you spiritually and have a big impact on you.
"Do not despise these small beginnings, for the LORD rejoices to see the work begin..." Zechariah 4:10
2. "One day at a time."
Or you may need to take it one week, one hour, or one minute at a time – you fill in the blank. When I hit my finals week last semester, I had to constantly remind myself to take one day at a time and that God's grace was sufficient to get me through. Are you facing a daunting task? Maybe you find it easy to stress about reaching your goals or being able to get through something, but remember that God is enough. Take one day at a time.
"So do not worry about tomorrow, for tomorrow will worry about itself. Each day has enough trouble of its own." Matthew 6:34
3. "It's never too late to begin again."
Do you feel you already messed up? You lost your "streak." You can restart any time you want! You don't have to wait till the next day or even next week.
"Great is his faithfulness; his mercies begin afresh each morning." Lamentations 3:23
I love this verse! God is so faithful! His mercies are new every morning. When we fall off track with our faith walk or get caught up in sin, it's never too late to turn back to God no matter how far we've gone.
4. "God is sufficient in our weakness."
Are you feeling weak? Good. That's when God can step in. His power is made perfect in our weakness.
"But he said to me, 'My grace is sufficient for you, for my power is made perfect in weakness.' Therefore I will boast all the more gladly about my weaknesses, so Christ's power may rest on me." 2 Corinthians 12:9
Next time you are feeling discouraged or unmotivated, pray to God about it.
Are you looking for practical ways to grow spiritually this year? Here are some ideas for you:
Use a 365-day devo book.
Choose a specific number of Bible verses you want to memorize this year.
Fast once a month or whenever you feel God has called you to.
Listen to worship music and jam out!
Although you can pray to God whenever you desire, having specific times to pray every day can help your prayer life be more focused, causing it to flourish. For me, I like praying when I'm in the car alone, commuting to work or school.
Get involved with volunteering in your church or other outreaches!
Read through the Bible in a year. Something I am doing this year is "The Bible Recap" by Tara-Leigh Cobble, which partnered with the Bible app. It also has a podcast that explains that day's passage. I highly recommend it!
As the body of Christ, let's strive to grow spiritually this year. We can do this with God's help! Let's make knowing and trusting God our most important priority, above any other aspect of our lives. Who knows, it could turn out to be the best year yet!
Lauren Weber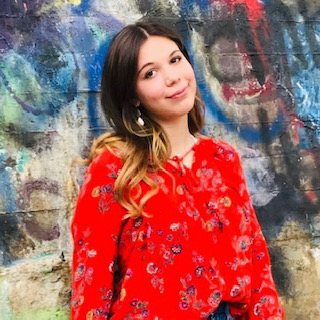 Lauren Weber is a college student and one of our youngest writers for The Connection. She is currently pursuing a nursing degree but has always had a love for writing. She loves using her gift of writing to serve God and to write words of truth and encouragement. In her free time, she enjoys hiking, reading, and spending time with her four-legged canine, Ripley.
Comments for this post are now off.