"Only one life, 'twill soon be past, Only what's done for Christ will last." C.T. Studd
Are you making the most of your life?
Don't live in such a way that upon your death bed you have many heartbreaking regrets. In Christ, you get to choose something better. You can live a life of significance. Maybe you know that already. But if you're like me, you get distracted. Although you want to live in a way that represents Jesus well and brings hope to others, you sometimes get off course.
In case you've lost perspective, let me remind you: You have purpose, power, and protection. Your life is not about living in survival mode. You were made to thrive.
You have purpose.

"For we are His workmanship, created in Christ Jesus for good works, which God prepared beforehand so that we would walk in them." Ephesians 2:10
"But you are a chosen race, a royal priesthood, a holy nation, a people for God's own possession, so that you may proclaim the excellencies of Him who has called you out of darkness into His marvelous light; for you once were not a people, but now you are the people of God; you had not received mercy, but now you have received mercy." 1 Peter 2:9-10
You have power.

"His divine power has granted to us everything pertaining to life and godliness, through the true knowledge of Him who called us by His own glory and excellence." 2 Peter 1:3
"The prayer of a righteous person is powerful and effective." James 5:16
You have protection.

"'No weapon that is formed against you will prosper; And every tongue that accuses you in judgment you will condemn. This is the heritage of the servants of the Lord, and their vindication is from Me,' declares the Lord." Isaiah 54:17
"For He will give His angels charge concerning you, to guard you in all your ways." Psalm 91:11
These scriptures only begin to scratch the surface. You could (and maybe you should) find many more verses that speak of the purpose, power, and protection that we as believers have.
We have purpose beyond empty, self-centered, fleshly pursuits. We have the divine God-given privilege of walking in good works and proclaiming the excellencies of Jesus and what He has done for us.
We aren't victims who are merely trying to survive. We have divine power on our side, and as we know God personally and come boldly before His throne, we obtain strength, victory, and even miracles.
We don't have to live in fear, and we can take risks. God gives His servants a heritage of protection as well as angels to guard us in all our ways.
Like many of you, I have a tendency to lose perspective, get distracted, and fall into fear. For this reason, I found myself writing a poetic declaration a couple of years ago. Much like King David commanded his own soul in the Psalms, I wanted to use the power of words to instill the truth within myself. Recently, I was reminded of these words I had written, and I would like to share them with you. I hope these words will encourage your resolve to live intentionally and purposefully with every breath and moment that you have: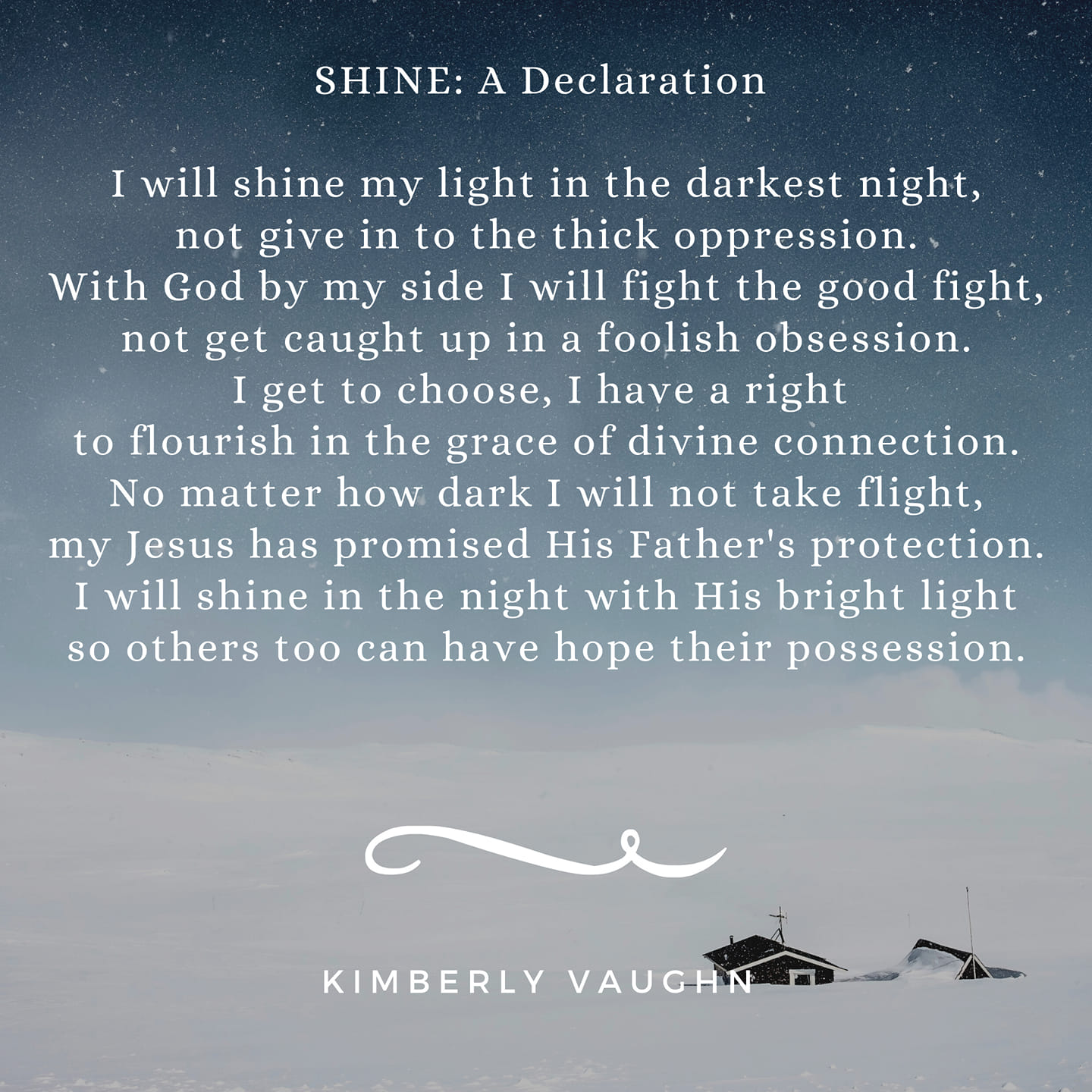 How will you make the most of your life? How will you shine your light?
"In the same way, let your light shine before others, so that they may see your good works and give glory to your Father who is in heaven." Matthew 5:16
You have purpose, power, and protection. Make the most of the life you have been given.
See below for document or picture download of "SHINE: A Declaration."
Kimberly Vaughn
Kimberly Vaughn is a wife and a homeschool mom of two. She has a passion to encourage and build up other women, especially those who are hurting and broken. She has been involved in various aspects of ministry since graduating from Bible college over 15 years ago. It is her desire for women to experience hope and transformation in Jesus through the words she writes and speaks.
1 Comment
---
Comments for this post are now off.